AEIOU, or ANY EASY INTIMACY by Jeffrey Brown is a little larger than a packet of cigarettes, and is probably as bad for you.
You know those couples whom you see get together and just say, "noooo, that is just going to go horribly, spectacularly wrong"? Two people who are just lugging huge bags of personality damage around, you know? You like them, even though they're clearly mental, but they're like Hitler and Mussolini — on the basis of their personalities alone, no-one was eager to see them working together. Jeff and Sophia are one of those couples. She has tramlines down her arm and he's emotionally about six years old. You know it's going to end horribly.
But you can't help but watch, can you? You know there's going to be floods of tears and guts up the wall and two really fucked-up people tearing themselves and each other to shreds, but you can't look away because it's so disgustingly fucking car-crash fascinating.
Distilling that feeling into — no, taking handfuls of your own life and smearing them over — these two-hundred-odd little pages, these aching, bleeding confused-childlike drawings… that's bloody clever. And what I like best about it is that it takes you in one direction, and then reminds you that reality is random and messy and has no plot structure, and leads you another way before you know what's happening.
This is the closest thing to a romance novel I'll be recommending you for a while. And it's a useful introduction to the wobbly, screwloose charms of Jeffrey Brown.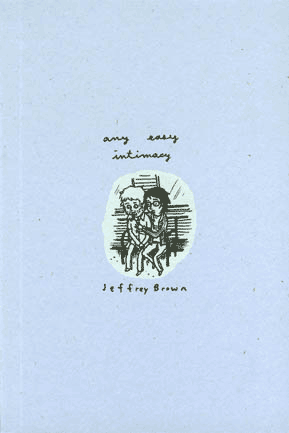 If you're in the US, use the link — it takes you to the publisher's page for AEIOU, and they'll be glad to meet you. If you're in Canada and you don't fancy the cross-border postage, email mail@beguiling.com, ask those fine people at The Beguiling in Toronto how much a copy goes for, and tell them I sent you. If you're in Britain, email page45@page45.com and do the same.